Book - Prints - Exhibition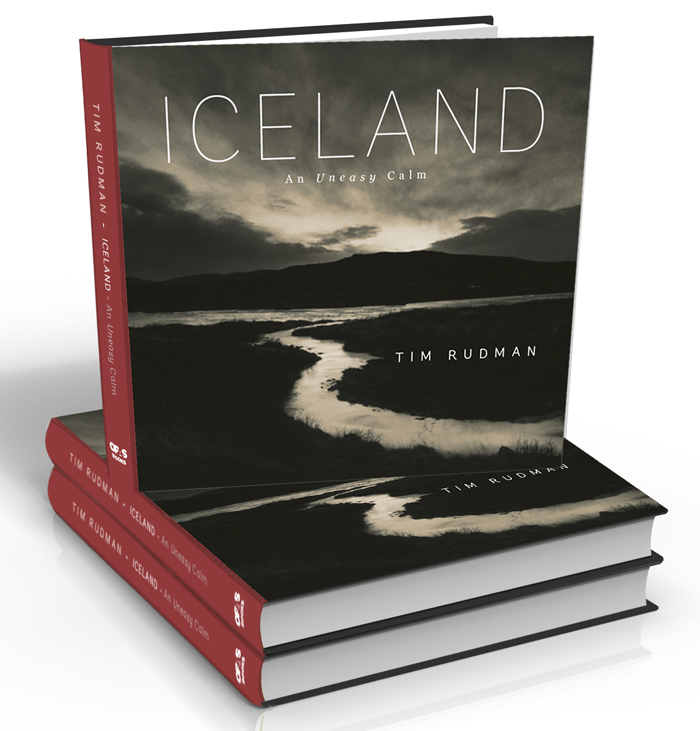 All book editions now sold out.
Limted edition handmade prints still available
Full details HERE
---
Book
"Iceland, 'The Land of Ice and Fire', has a strong and omnipresent 'Middle Earth' feel to it. Evidence of its volcanic origin is everywhere. Geysers spurt, mud pools boil and steam billows from the ground. The central highlands are unpopulated and barren. Glistening glacial caps crown the mountains and extend long white fingers down to light-sucking lava deserts, whilst bible-black beaches lie fringed with white surf.
Thundering waterfalls abound, whilst craggy caves and peaks, often shrouded in mist and low cloud, provide a home to some of Iceland's trolls and 'hidden people'. In summer the days extend through the nights. In winter the nights eat up the days. Changes in the weather are frequent and storms can be spectacular. Brooding skies accentuate the already dramatic and sometimes eerie landscape where trolls lurk at night and get turned to stone by daylight. It is a land of myth and magic, of fearsome subterranean power and spectacular scenery".
Tim Rudman
'Iceland, an Uneasy Calm' is a handsome cloth-bound hardback book with dustcover, 300mm x 280mm landscape format with 132 pages and containing 98 quad-tone plates made from the exhibition silver gelatine selenium and thiourea toned prints.
Foreword by Bill Schwab. Introductory essay by Tim Rudman. All contents ©Tim Rudman and © Bill Schwab, all rights reserved.
Publication date: October 2015
First edition 1.000 copies
Deluxe collectors edition 75 copies signed and numbered in a black silk-bound clamshell box with a handmade limited edition silver gelatine print of one of the images from the book.
Published by Opas Books
Details HERE


MonoVisions feature HERE

---
Reviews
"Tim Rudman is rightly acknowledged as one of the United Kingdom's very finest landscape photographers working today, with an enviable and growing body of work. Tim's work is always originated on film but made unique and easily identifiable by his supreme gift as one of the leading photographic printers of his generation. His skills, and ability to enhance almost any image is widely shared amongst all who enjoy photography at whatever level by his many publications and shows a profound and encyclopaedic knowledge of his craft. 'Iceland' is quite simply a 'tour de force' of the photographer and printer's skill".
Simon Galley / Steven Brierley. Directors; Ilford Photo, Harman Technology Ltd.
Simon Galley & Steven Brierley have between them 60 years service with ILFORD Photo and HARMAN technology Limited where they are both Directors, makers of the ILFORD Photo range of monochrome photographic products.
_________________________________
These images go far beyond the common and strike deep at the viewers' core, resonating with power and beauty.
The photographs will take you to many places beyond simple fences, rocks, clouds and shorelines and undoubtedly to places within.
Bill Schwab. Photographic artist. USA.
__________________________________
"Meyer gallery considers this collection so important, it has given the whole two floors of the gallery to this exhibition".
From the earlier 2010 Sydney exhibition of the Iceland work.
"This is stronger work than seen before...full of passion and immensely dynamic. His earlier work was more decorative...this shows another dimension. I believe time will prove Tim Rudman will confirm his place as one of the world's important photographers. This exhibition is up there with the world's best".
Bob Kersey. Photographer & Platinum printer.


READ CUSTOMER REVIEWS HERE
---